Situated in the North East corner of Beijing, in the Dashanzi zone, 798 Art Zone or Dashanzi Art District (DAD) is named after the 798 factory constructed in the 1950s. Covering a total area of 148 acres or 60 hectares, it has Beijing-Baotou railway to its east, Jiuxiangqiao Road to its west, Jiuxiangqiao Road North to its north, and Jiangtai Road to its south. The 798 Art Zone is characterized by modern art and has grown to be the exhibition center of China's culture and art, as well as the world-famous cultural and innovative industries centralized area.
History of 798 Art Zone
The area where the art zone currently lies as once the place where the North China Wireless Joint Equipment Factory stands. After some time, the company left the district and lease their plants including the 798 factory. The factory's architectural design which features simple style but varied composition actually follows the Bauhaus way. Because of the unique design, convenient traffic, innovative style of Bauhaus architecture, a lot of art organizations and artists came to lease the unused plants and transformed them. Eventually, district gathering galleries, art studios, cultural companies, as well as fashion shops gathered and formed a district there. Since the area where the initial art organizations and artists had their galleries and events was situated in the original area of the 798 plant, it was then named the 798 Art Zone.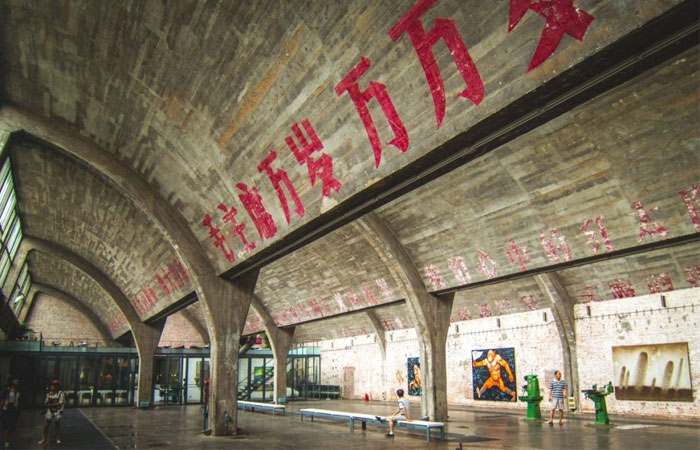 From Factory, to Beijing's Exhibition Center of Chinese Culture and Arts
The place how now attracted a huge deal of attention from the local and international media and has developed into a new regional mark of the city. By the year 2008, more than 400 cultural organizations from different countries such as France, Britain, Italy, Belgium, the Netherlands, Japan, Germany, Australia, Taiwan, South Korea, Hong Kong, Mainland China, and others have settled down in the art zone.
Today, the zone usually hold significant internal art exhibitions, art activities, and even fashion shows. To promote and expand the art zone's reputation and influence, it has created the 78 Art Festival which is held annually from the end of April towards the end of May since the year 2006. It also offers the 798 Creative Art Festival happening from the end of September until the end of October. Thee festivals highlight the communication of art and culture.
Well-known public figures such as politicians, social celebrities, and movie stars have already visited the attraction the 798 Art Zone. Some of them are the Prime Ministers and ex-Prime Ministers from Switzerland, Sweden, Austria, and Germany, European Union's President, IOC Rogge's President, and the Belgium Crown Prince.
Must See Places
798 Photo Gallery
The owner of this gallery, Chen Guangjun, has mostly developed the photos on display here which are very hard to see in other places.
798 Space
This area is mainly for press conferences, fashion shows, and other activities. This building actually follows a Bauhaus style where its roofs are curved serrated, a design that even not seen often in Germany.
Lord of Salt
This is a restaurant that is well-known for its authentic and sumptuous Sichuan dishes. The chef originated from a little town in Sichuan Province and his cuisine certainly has an authentic Sichuan flavor. His spiced chicken is a must try.
AT CAFÉ
This is a pizza and sandwiches café but their specialty is their coffee. The owner, Huang Rui, thinks that AT CAFÉ's coffee is better than Starbucks'.
Long March Cultural Communication Center
The owner of this center is a famous contemporary artist named Lu Jie. In here, you can find the record of one of his initial events wherein he led a group of different artists in pursuing the Long March route and communicating with the Chinese artists. Folk art exhibitions will surely stimulate your interest. Paper cuts of an old folk artist, Gao Fenglian, cover all the walls.
VINCENT CAFÉ (French)
This is probably the best little restaurant here that has a family-style vibe. Its owner is a French named Vincent, who started to learn and explore cooking and restaurant management at an early age of 15. He used to work as the chief manager of a famous French restaurant in the city and is quite good at making sweet and delicious pancakes. You can enjoy it with either meat and vegetable or ice cream and fruit fillings. Another spectacular creation of his is an alcoholic drink called the shooter.
Travel Tips
Walking around the art zone will usually take more than 20 minutes. A map is available at galleries or bars.
Taxis or buses can get you here, but taxis are not permitted to drive into the art zone.
Unfortunately, the zone is poorly lit at night.
There are guide services that the art zone provides. There are also volunteers that work as travel guides during the art festival.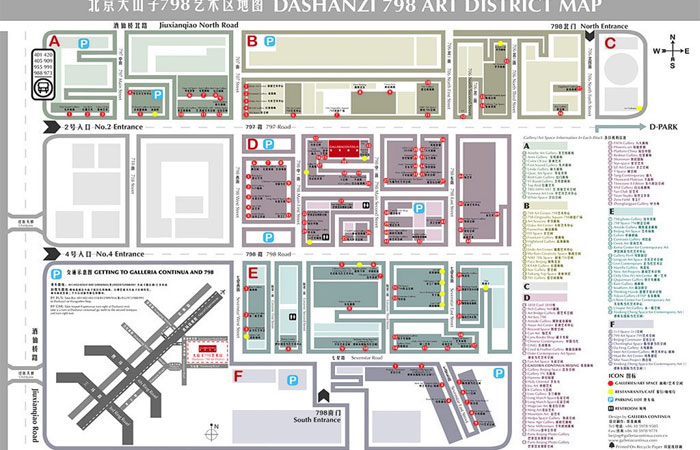 How to get there
Subway line 14 can take you to the Wangjing Nan Station where you should get out at Exit B. From here, you can take bus 403 and alight at Dashanzi Lukou Dong Station or walk for 20 minutes from the station to the northeast.
The buses that can take you to the Wangfeyen Station or Dashanzi Lukou Nan Station are bus 401, 402, 405, 418, 445, 973, 988, 991, and Fast Transit Line 117. Other buses that can bring you to Dashanzi Lukou Dong Stations are bus 403, 593, 851, and 854.
Ticket Price
The entrance to the 798 Art district is free but there are some galleries and exhibition halls who charge admission tickets.
Operating Hours
The 798 Art Zone is open all day long but many of the shops and galleries inside are operating from 10 am to 6 pm. Some may be closed on Mondays.