Located in Chang'an Avenue of Xicheng District, National Grand Theater is more commonly known now as National Center for the Performing Arts or NCPA. Its unique and attention-grabbing architectural layout was designed by the French architect named Paul Andrew. NCPA's main building is composed of 3 performing venues namely the Opera House, the Concert Hall, and the Theater.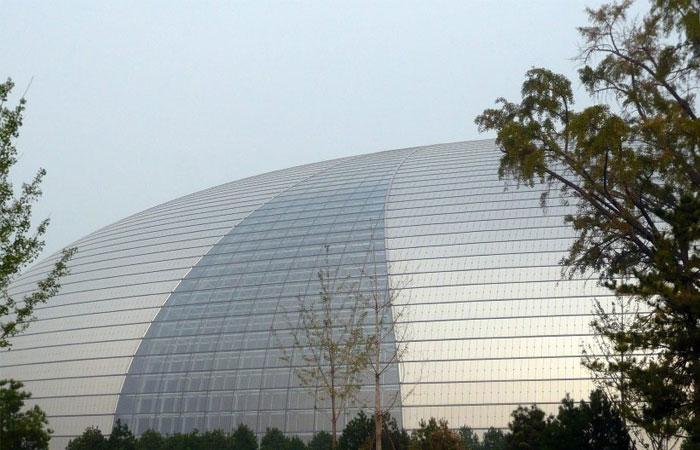 Moreover, this big dome has underwater corridors, an artificial lake, an underground garage, as well as a green space. Its area is covering a total of 29 hectares or around 12 hectares. Construction started on December 2001 and was completed after 5 years, on September 2007. Nowadays, the building is thought to be the deepest architecture in Beijing because of its deepest point of -106.6 feet or -32.5 meters. That is equivalent to the height of a 10-floor structure. The National Center for the Performing Arts offers a very sharp contrast to its environment, having an oval exterior surely makes it eye-catching.
There is a lot of performances regularly staged in NCPA like dance shows, ballets, dramas, symphonies, operas, and the like. If you would like to visit and watch a show or two, the National Center for the Performing Arts is offering a visiting tour that includes thematic activities, art exhibitions, and facilities.
NCPA's Exterior – A Huge Oval Shell
A steel-structured oval shell, the National Center for the Performing Arts' exterior is made of ingenious material integration of more than 18,000 titanium plates and more than 1,000 sheets of ultra-white glass. It indeed creates a vibrant graphic effect as if the curtain is drawn apart slowly right before your eyes. It is considered the largest dome in the whole world with its 6,457 tons of weight and 696 feet or 212 meters of an axis. The center is bounded by a crystal-like artificial lake which does not turn into ice in winter and where algae will not grow in summer through the use of high technology. All of the building's entrances and passages are built underwater which can give you a special feeling when you walk into it while your head is above water. There is also a greenbelt around the lake where people can wander and appreciate the serene surroundings for free or without a fee.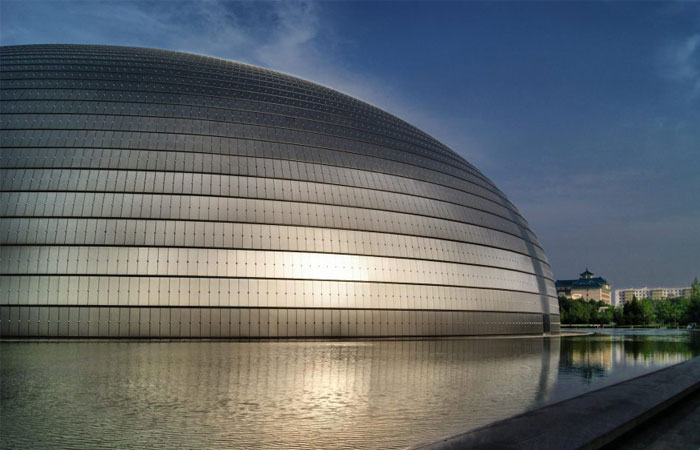 Performance Venues
The performance venues of the National Center for the Performing Arts which include the Opera House, the Concert Hall, and the Theater are separated houses but are linked by air corridors.
Opera House
Probably the most magnificent building inside NCPA is the Opera House with a main hue of gold. This is where operas, ballets, dance dramas, as we as large-scale shows are being performed. It has a total of 2,091 seats but there is also a standing room available. The auditorium's arc-shaped metal-net wall permits lights and shadows to change according to the progress of the performance. The spectators can effortlessly immerse themselves in the inventive atmosphere of the theater. The seamless ballet stage's surface is made of Oregon timber and is known to be the largest one in China. The stage also has a three-layer structure that gives good resilience and protection to the performers' feet.
Concert Hall
Situated at the east side of the Opera House is the Concert Hall where the Chinese traditional music, as well as large-scale symphonies, are staged. It has an elegant and tranquil look because of its silver-white color. The audience can enjoy the performances from any angle since the auditorium is around the stage. The halls' ceiling rolls like waves that are auspicious to the sound's diffusion. It can seat a total of 1.859 spectators.
The Concert Hall's pipe organ is one thing that the audience wouldn't miss. It is placed in the hall with 94 stops and a remarkable array of 6,500 pipes. It is actually the largest one in Asia and is truly the Concert Hall's most valuable treasure.
Theater
The theater's design has a distinctive Chinese traditional style. It is where stage plays, operas, and national songs and dances are staged. Excluding the orchestra, the theater has a total of 957 seats. Its walls are flameproof because of the Zhejiang's silk placed on it. The theater's stage does not only provide a great venue for the Chinese traditional operas but also give a feeling of closeness between the performers and the audience.
Auditorium
The air condition's air inlets are built under the seats so the audience won't feel the wind but enjoy the coolness while seeing the performances. It also has equipment installed for noise elimination so that when anyone leaves while the performance is going on, no noise will be heard.
How to get there
Take Subway line 1 and alight at Tiananmen Xi Station. Get out from Exit C and find the underground passage directly to the theater. You can also take Subway line 2 and alight at Hepingmen Station. You need to get out here from Exit B1. You can also get off at Qianmen Station and find the Exit C.
The bus that can get you to the Shibei Hutong Station is bus 52. While the buses that can get you to Tiananmen Xi Station are buses 1, 5, 52, 99, and Sightseeing Bus 1 or 2.
Ticket to Beijing National Grand Theater
Regular rate is CNY 30 for adults and CNY 15 for children under 3.9 feet.
Combo ticket A is CNY 40 for 1 adult and 1 minor who is under 18 years old.
Combo ticket B is CNY 65 for 2 adults and 1 minor who is under 18 years old.
Note: Minors taller than 3.9 feet must provide a valid ID card.
How to book a ticket
There is a ticket office near the north fate which operates from 9:30 am to 6 pm for days without performances and from 9:30 am to 7:30 pm for days with performances.
You may also call the hotline +8610-66550000 from 9:30 am to 7:30 pm.
Opening Hours
From 9 am to 5 pm.
Last entry is at 4:30 pm.
Closed on all Mondays except on holidays.