Situated near the downtown Beijing in Dongcheng District, Wangfujing Street is included in the four prosperous business zones of Beijing. With its modern and fashionable trends, it is indeed one of the successful symbols of Beijing's commerce.
The street measures 1,600 meters or 1 mile long which range from the National Art Museum of China in the north up to the Changan Avenue in the south. Originating from 700 years ago, it was named Wangfu (royal mansion) Jing (well) because of the 8 royal mansions and a sweet water well that used to be located on that street. Today, Wangfujing is the busiest street in the city with an average of 600,000 foot traffic that can rise up to 1.2 million during holidays.
Since it is the first popular business zone in Beijing, a lot of shops and boutiques including world-famous brands are located in Wangfujing Shopping Street. Other than that, many time-honored stores that sell traditional commodities for over hundreds of years are also situated here. It could be compared to Paris' Champs-Elysees in terms of being a modern commercial street.
Where to go and what to buy in Wangfujing Street
Shengxifu Hat Store
An old brand that goes way back, Shengxifu is a time-honored store that offers various kinds of hats. Their products are well-known because of the fine materials used, intricate craftsmanship, and high quality. Some of their famous buyers re Chairman Mao and Premier Zhou. Their products are also exported to other countries such as America, Canada, France, and Singapore.
Tongshengshe Shoes Store
Another time-honored brand is Tongshengshe which is popular for their cloth shoes and caps. They offer tailor-made or customized with fine quality and exquisite designs.
Ruifuxiang Silk and Cotton Shop
Ruifuxiang is a famous silk shop, especially for western tourists. They offer silks in top quality as well as traditional Chinese clothing such as the cheongsam. Visitors have the option to have their clothes customized by just selecting a style and cloth having their measurements taken. Once the clothes are completed, they can be shipped directly to the visitor's home address.
Gongmei Mansion
The biggest shopping center for crafts in the city is the Gongmei Mansion. Here you can find numerous kinds of handicrafts and jewelry. They are selling a magnificent array of Jadeite, silk, agate and even embroidery. Cloisonne, ivory carving, carved lacquer ware, as well as jade ware are the 4 most stunning figures in Beijing crafts and all of such can be found in this mall. Discounted items are located on the fifth and sixth floors.
Sun Dong An Plaza (Beijing APM)
The Beijing APM branch in Wangfujing Street is one of the biggest shopping malls in the city which is situated at the western end of the Jinyu Hutong. Tourists can find almost all the branded items here such as Apple electronics, Zara, Gap, Longines, Omega, MAC, and Calvin Klein. It also houses a number of exotic restaurants.
Wuyutai Tea Shop
A famous tea shop that started in 1887, Wuyutai Tea Shop caters to all generations, from the seniors to the millennials. Their most popular drink is the jasmine tea which can help in regulating your vital energy and soothing your nerves.
Yong'an Tang Herb Store
This herb store was constructed in Yongle Reign during the Ming Dynasty and it now has a history of more than 580 years. Traditional and rare Chinese medicines can be bought here like antler, ginseng, and cordyceps.
Chinese Photo Studio
Known for their skills in shooting personal portraits, Chinese Photo Studio has a far-reaching history and high reputation since they have already served various government leaders and heads. They also accept wedding, family, and birthday photoshoots and coverages.
Malls at Oriental Plaza
It is easy to spot Malls at Oriental Plaza here in Wangfujing. It is composed of 7 varied shopping area themes which meet the needs and demands of shoppers from different economic status. Fashion clothes, perfumes, wrist watches, handbags, and cosmetics from world-renowned brands are all here that's why this is a popular shopping spot for the young people.
Xinhua Bookstore
This is a ten-story bookstore that surely gives a wide selection of books to its visitors. The books here are all original so expect to pay a full price. You can even enjoy reading one of their books inside for free and appreciate some traditional music instruments and crafts displayed.
Donglaishun Restaurant
Initially opened in 1903, this restaurant is famous for their mutton hot pot. Today, it offers around 200 cuisine styles. Tasting authentic food from different parts of the world is possible by visiting the Donglaishun Restaurant.
Quanjude Roast Duck
This is probably the most popular roast duck restaurant in the country. Visiting Beijing wouldn't be complete without tasting their signature dish roast duck and Quanjude's branch in Wangfujing is a great choice to enjoy this sumptuous food.
Wangfujing Snack Street
Situated on the south side of the Wangfujing Haoyou Emporium is the Wangfujing Snack Street. It is the best place to go to enjoy and experience the famous snacks from all over China.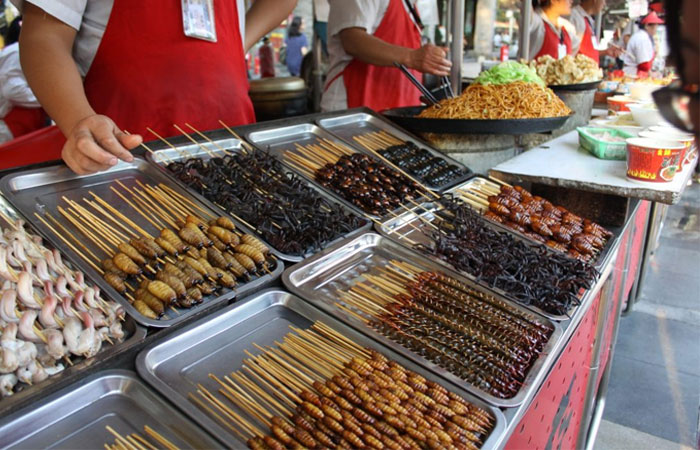 The snack street boasts a traditional Beijing architectural design. At the entrance is a stunning antique archway which stands at 10 meters tall. The booths and shops are running along the two sides of the street and each stall displays decorative flags and signboards. There is also a stage on the street where drama and acrobatic shows are held. It has three areas namely 1F, 2F, and 3F and each area offers its own specialties.
Famous Snacks from all over China at 1F
There are lots of traditional delicacies that you can try from this area. Some of their popular offerings are fermented mung bean juice, pea cake, caramel treats, steamed rice cakes with sweet stuffing, stinky tofu of Hunan, sugar-coated haws, coconuts of Hainan, and many others. There are also exotic treats here which you can try if you are brave enough such as centipede, scorpion, starfish, spiders, and others.
Muslim food and culture are what you can expect on the 2nd floor of the snack street. Their famous dishes include cooked tripe of sheep or swine, tofu pudding, and cooked muttons. The Xinjiang's specialty snacks are also available here like the Xinjiang braised chicken, Xinjiang style braised tripe, and Xinjiang style bread.
Nine Specialties of Old Beijing at 3F
In here, you can taste the 18 snacks that originated in the Qing Dynasty Palace. There are also Beijing-style performances that are held in the 3rd floor where you can volunteer to perform and have fun.
How to get there
Subway line 1 can bring you to Wangfujing Street by getting off at the Wangfujing Station and heading towards Exit A.
The buses that can take you here are 41, 52, 120, 140, Night Bus 1 or 17. On the other hand, buses 103, 104, Te 11, Sightseeing Bus 2, Night Bus 18 and 21 can bring you to Wangfujing Lukou Bei.