Chinese cuisine has become an international choice of food and easily found in different parts of the world from the United States to Europe and the Middle East.
China is a vast and diverse country, so in different regions, you need to expect different food. But keep in mind that these are real Chinese foods and can be quite different from your local Chinese food restaurant.
In order to divide this vast cuisine, it has been broken down into eight different styles, or as they say in Chinese, Cai Xi (Dish Departments). Bear in mind that Chinese cuisine goes further than these and are explained further below.
Chinese Cuisine
Yue Cai, Cantonese Cuisine – The Most Known One
Although this member of Chinese cuisine is mostly noted in the West of China, it comes from Guangdong Province and neighboring Hong Kong in the south of China. Cantonese Cuisine is mainly characterized by its fresh ingredients, every part of every kind of edible meat (duck head, gooseneck, pig's ears), and not using many herbs and spices not to change the original flavors of the main ingredients much.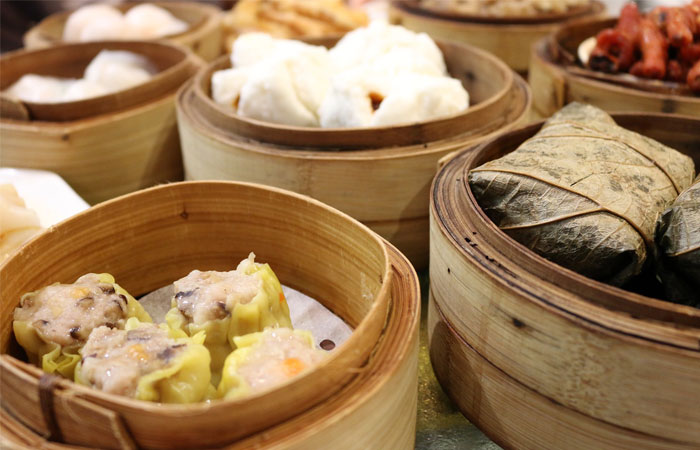 Examples of this cuisine:
Char Siu, Barbecue Pork
Pi Dan Shou Rou Zhou, Congee with lean pork and Century Eggs,
Yum Cha, or Dim sum which are small portions of food served in small steamer baskets and traditionally eaten with tea and sometimes as brunch
Zha Liang, fried dough (Youtiao) wrapped in a rice noodle roll
Feng Zhua, Phoenix Claws which are chicken feet
Where to find it?
Guangdong province and its major cities, Guangzhou and Shenzhen
Hong Kong
Chuan Cai, Sichuan Cuisine – The Omnipresent
Chuan Cai cuisine is somewhat different from the Cantonese cuisine and is focused on bold, pungent, spicy flavors. It is known by its use of garlic, chili, and Sichuan peppercorn (which creates the unique taste of mala or numb spice). Sichuanese people are in love with their culinary heritage, so you know you're going to taste some of the best food in China if you like spicy food.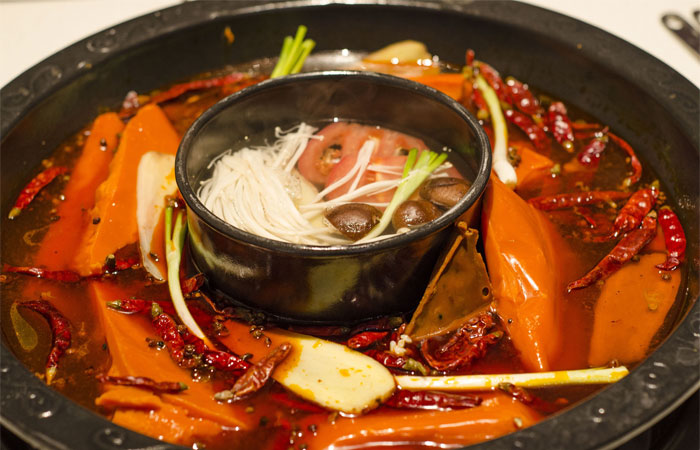 Examples of this cuisine:
Hotpot Huo Guo, a delightful culinary experience, you need to sit around a pot of spicy broth and boil your own ingredients such as meat and fish slices, potatoes, vegetables, tofu, etc.
Hui Guo Rou, Twice-cooked pork, a tasty dish made of stir-fried pork, cabbage, peppers, and onions.
Gong Bao Jl Ding, Kung Pao Chicken, Stir-fried chicken, peanuts, vegetables, and chili
Mapo Toufu, a dish of tofu in a spicy sauce of chili bean with minced meat and fermented black beans.
Where to find it?
Sichuan province and its capital, Chengdu
Chongqing
In restaurants all over China.
Min Cai, Fujian Cuisine – Lots of seafood and taste of umami
Fujian is the southeastern coast of China, so it only seems logical that this style uses all manner of fresh seafood alongside bamboo shoots and indigenous mushrooms. This section of Chinese cuisine is more close to the Cantonese style because of its light and flavorful taste. It focuses on retaining the original flavors of the main ingredients and does not use many spices. Two highly important food here is soup and broth.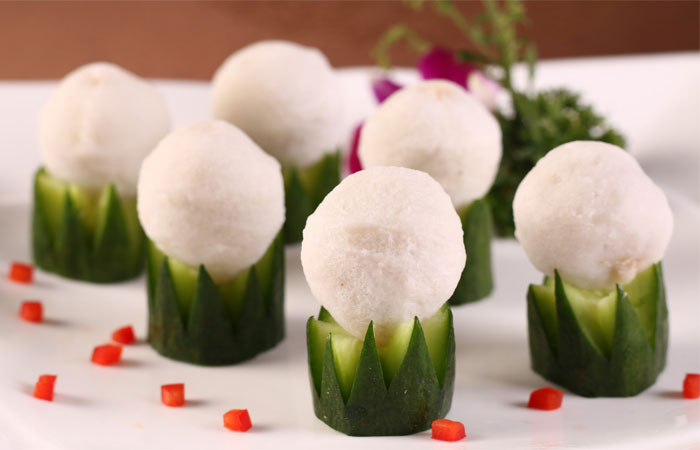 Examples of this cuisine:
Geng, a thick and translucent soup which is served with fish or meat and coriander
Mi Xian, thin wheat flour noodles
Hezi Jian, oyster omelet
Bao Xin Yu Wan, stuffed fish balls
Where to find it?
Anywhere in Fujian Province and its major cities, Xiamen and Fuzhou
Southern Zhejiang province and its major city, Wenzhou
Taiwan
Zhe Cai, Zhejiang Cuisine – the soft and mellow one
Zhejiang is located just outside Shanghai and is one of the more prosperous provinces of China. Known for its sophistication and delicacy, Zhejiang's capital city, Hangzhou, was the capital of the Song Dynasty in the olden days. This culinary style uses local ingredients like bamboo shoots, freshwater fish, green tea, and pickled vegetables.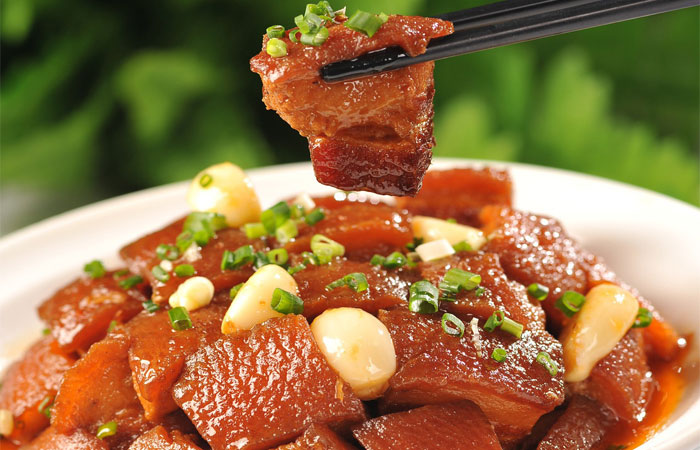 Examples of this cuisine:
Xihu Cu Yu, West Lake fish in vinegar, uses freshwater fish from the renowned west lake of Hangzhou
Dong Po Rou, Dongpo Pork, Pan-fried then red-cooked pork belly
Jiao Hua Ji, Beggar's Chicken, Stuffed chicken, wrapped in clay and slow-cooked at low heat
Where to find it?
Anywhere in Zhejiang province and its major cities, Hangzhou, Ningbo, Shaoxing
Xiang Cai, Hunan Cuisine – Spicy, Spicy, Spicy
If you are one of those hot food lovers and Sichuan cuisine is not taking you there, Hunan cuisine can be your answer. It focuses on spice, fresh aroma, and deep color.
Sichuan cuisine is called mala or numbingly spicy, but the Hunan cuisine is called for ganla or purely spicy and uses smoked and cured ingredients in its dishes.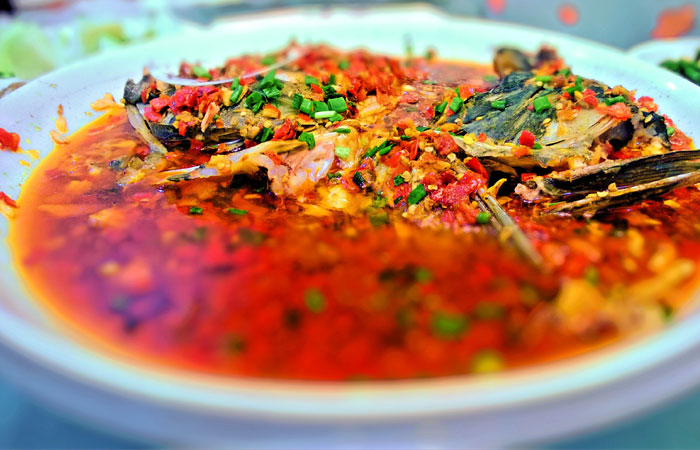 If you stay in this region for a while, you can experience humid summers and wet winters, and this is the reason for such spicy hot food.
Examples of this cuisine:
Dong'an Zi Ji, Dong'an Chicken, Parboiled chicken with chili peppers, spring onions, and ginger
Gandoujiao Zheng Larou, Smoked pork with dried green beans
Chao Xue Ya, Stir-fried duck with blood
Nangua Bing, Pumpkin cake
Where to find it?
Anywhere in Hunan province and its major cities, Changsha, Zhangjiajie, Fenghuang Ancient Town
Hui Cai, Anhui Cuisine – Hearty but not much famous
The Anhui cuisine is characterized by uses of locally grown wild herbs and mushroom that fills its mountains and forests. In this more straightforward cuisine, braising and stewing are more practiced rather than stir-frying.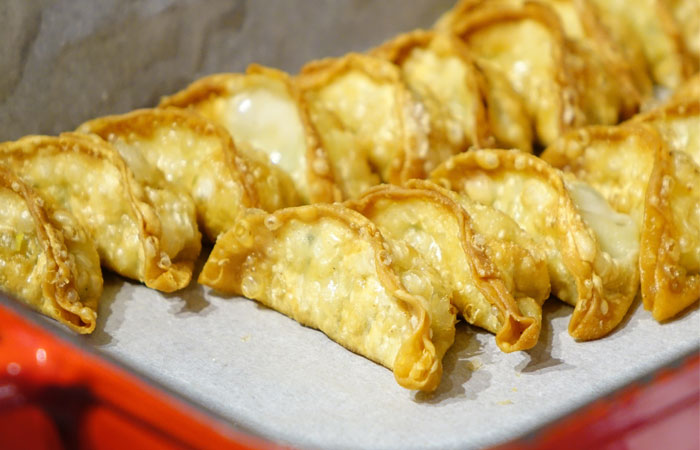 Examples of this cuisine:
Nongjia Dan Jiao, Farmhouse Egg dumplings
Li Hongzhang Zasui, Li Hongzhang Stew
Luzhou Kaoya, Luzhou Roast Duck
Qingzheng Shi Wa, Steamed Stone Frog
Where to find it?
Anywhere in Anhui province and its major cities, Hefei and Huangshan
Su Cai, Jiangsu Cuisine – It's all presentation
Originated in the province of Jiangsu, Just north of Shanghai, this cuisine is known because of its sweet and mild taste. In Jiangsu cuisine, presentation, chef's knife work, colors, and shapes of the ingredients are all highly significant.
Among the many ingredients used, freshwater fish, seafood, and sea vegetables are very common.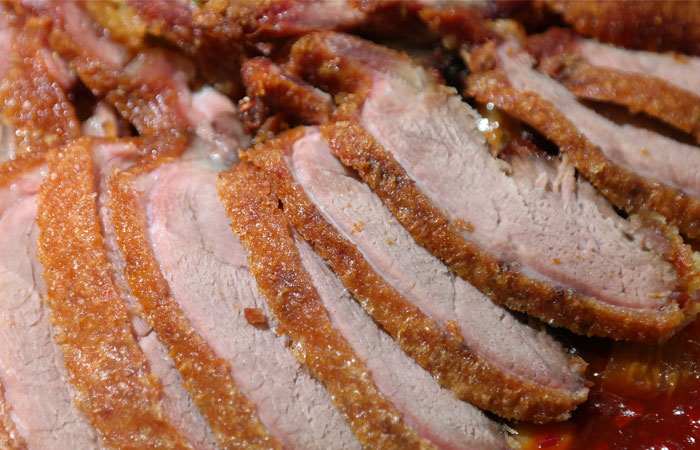 Examples of this cuisine:
Yánshuǐ yā, Brine-boiled Duck
Ping Qiao Doufu, Pingqiao Tofu, Soft tofu cooked with seafood, mushrooms, and chicken
Xie Huang Tang Bao, Crab Meat Soup Dumplings
Hongshao Shizitou, Red Braised Lion's Head Meatballs, Pork meatballs
Where to find it?
Anywhere in Jiangsu province and its major cities, Nanjing and Suzhou
Lu Cai, Shandong Cuisine, Seafood from the north
Was created in the northern province of Shandong, which is a coastal province. So because of this, a large number of ingredients are from the sea and seeing fish, seafood, and even sea cucumbers is a normal thing.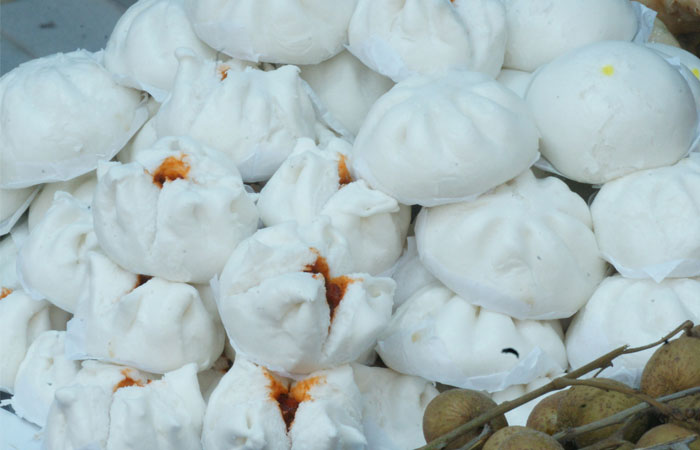 Shandong cuisine has intense flavors which come from leeks, spring onions, garlic, and ginger. Also salt is very in use here. This cuisine is also known for its slightly larger portions. This region's cooking methods are unique such as high temperature stir-frying known as Bao and quick-frying with corn flour known as Liu.
Examples of this cuisine:
Jiu Zhuan Da Chang, Braised intestines in brown sauce
Dezhou Ba Ji, Dezhou Braised Chicken
Haishen, Sea cucumber
Baozi, Steamed Bun
Where to find it?
Anywhere in Shandong province and its major cities, Jinan, Qingdao, and Qufu