Introduction to Guangzhou China (Canton)
Guangzhou, or as westerners usually call Canton, is the third largest city in china. It's located in the south of china and in the center of one of the most world's biggest and known metropolitan areas. In that area about 44 million people live, and Guangzhou is just one of the cities there. The population of Guangzhou is estimated to be about 13 million people. Guangzhou has lots of nickname due to its different traits. The most reputable nickname of Guangzhou is "Rice City". "City of Rams" is another nickname. In the next paragraphs you can understand why this city has suck nicknames. Perhaps the grass is greener and the flowers are glossier in the Guangzhou , and that is why it's called "City of flowers". Like other Chinese metropolises Canton is the mixture of old and modern China, where you can see ancient temples which were built thousands years ago, great architectural buildings and also enormous towers and giant shopping centers. Guangzhou  has been always one of the most strategic cities of China. It was one of the major terminus of silk road and now its accessibility to other cities of China and rest of the world is special. It's located near Pearl river and has a giant airport which is one of the three most enormous airports of the China. The car road, the airport and the pearl river have made Canton capable of being one of the most commercial cities of China or even the world. The city specialties haven't just caused Guangzhou to be a great trading center, but also caused a lot of cultural exchanges and lots of social impacts. It always played an unavoidable rule in China's social and political situation. It's not easy to not count Guangzhou as one of the cities which made China one of the most powerful countries in the world, culturally and economically.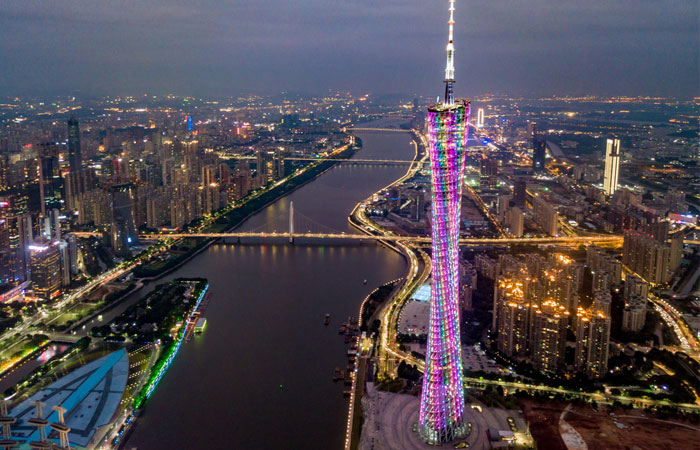 What to eat in Guangzhou?
Apart from lots of businessmen who come to Canton to trade, a big fraction of tourists who visit this city just come to shop and eat. I'll talk about it's food later but its possession of eyeful sight-seeings make it one of the must-see places of the world. You just need to go to the north villages to enjoy peace out of the big city. As it's well known there you can see sights which can cause  the feelings you haven't experienced before. Just people who have tried it can understand what I really mean.
Canton is the best place for foodies. It doesn't matter where you go in the city. You have lots of choices for food that can make you mixed up. You just need not to panic and choose one. Canton is the city where special Chinese food is cooked very well and it's well known. You can also try other countries special foods there if you want. This city has the most restaurants per person in China.
Shopping in Guangzhou
As you know Guangzhou is known for its malls. You can buy every product which is made in china there. It's an innumerable source of watches, electronics, toys and other things which are made in china. You can buy them by real Chinese price and it's obvious that it's much less than the price you pay in your country. The world's biggest electronic manufacturing region is situated there. In Canton you can choose to buy from wholesale markets where you usually must buy in huge amounts like "Baima market" and "Liu Hua" or luxury stores. There are some streets which tourists can buy what they want  in small amounts. They have been built for tourists enjoyment and they can satisfy tourists needs. "Beijing road" is the most popular one with small stores. It's accessible by metro. These stores can show you how Chinese people used to live centuries ago. But as I told earlier you can find big malls and towers too. They are tall and bright but a little expensive so you can't expect low prices. But the quality can satisfy you. The Chinese tea is one of the best teas in the world or as some people say the best. So it's a big loss if you go there and not try the tea. "The Canton Fair" is a giant fair where hundreds of thousand people attend each time it's held. The transportation system in Guangzhou is just more than acceptable and you can travel in the city by metro, taxi and buses very easily and quickly.
The gouangzhou's airport has about 25 millions passengers each year. The number shows why it's one of the biggest airports of china and the amount of people who travel to Guangzhou. It has lots of facilities and services for tourists who have chosen Guangzhou for business or amusement. Banks, foreign currency exchanges, medical rooms and business centers has made the airport a comfortable and safe place for travelers. It has  direct flights to other china's big cities and the capital of other countries like London, Paris, Amsterdam Kuala Lumpur and etc.
There are lots of places you can visit in Guangzhou like Chimelong Paradise, Canton Tower, Shamian, Temple of the Six banyan Tress, Baiyun Mountain, Beijing Road, Guangxia temple and Sacred Hear Cathedral. I will talk about these amazing places in the next paragraphs.
Chimelong Paradise a place for fun and calm
Chimelong Paradise is one of the biggest amusement parks in china. It has tens of fun game which can get a day of you to just choose the ones you want to try. Also it's a good place for having some relaxation. The park is devided to diffferent zones. In each zone there are particular kind of games. It has been devided for different age ranges too. This modern park was built in 2006. Each zone has  a different theme and the themed areas are: Whirwilnd Island, Screaming Zone, Happy Kingdom, Kid's land, Rainbow Bat, Water World and Phantom Zone. Chimelong Paradise is famous for it roller coasters. Now there are just two 10 ring roller coasters in the world, one of them is located in the england and the other one has been built in the Chimelong Paradise. The third one will be in barzil. The 10 Inversion roller coaster of Chimelong Paradise is one of the best places for people who want they adrenaline to be secreted. Try the front seats, It's really more joyful. The speed is so high and the height is amazing. Some other games of the park are Drop Tower which goes 36 meters high. There you can see the whole park. Then suddenly you fall with high speed, But don't fear, it's safe. Another extreme fun tool there, is Air Race. It moves vertically and horizontally and you will turn about 702 degrees. It's not just these fun games for young and adventurers. Some games are for your beloved children. In Demolition Dreby you can sit in the back of the car which your kid drives. Also Magic Bikes is an acceptable tool for your children. You paddle and your Bike goes up to the sky. Some games are operative for kids and young people. One of them is Barnyard. It goes up then vibrates. In the Chimelong Paradise you can find lots of good stores and restaurants. They can amaze you by their servises. You can buy postcards and send to your lover and famili, buy toys and dolls and unique souvenir. Variable kind of restaurants are located there. Burgers, chinese food, pizzas and other likes of food can be found there.
Canton tower was the world's highest tower just some years ago
Canton tower was built in 2009. That time it was the worlds highest skyscraper in the world. It's well known for its brightness at night. You just need to see the tower at night, it glows in a way you enjoy watching it. Lots of lamps have been placed there and they can change into different colours. It's also called Canton Tower or Guangzhou tower. That shows the importance of this multitask tower for the city. As soon as the tower was built up, it became the landmark of the Guangzhou. It's height is more than 600 meters. On the rooftop of the tower you can have a stunning view of the whole city in 360 degrees. Its's so vast that there are some cars there which drive around the tower rooftop , in the height of more than 400 meters from the ground, to show you the whole area of tower. You can have a free fall in sky drop. It's wonderful. It also has Star Observation Deck and Cloud Observation Deck. It's an excellent view. You can encompass the most level of enjoyment by looking in the fine sky and stars and clouds. The canton Tower is a bit pricy but you'll really enjoy the magnificant views and intersting exibitions. A 360  degrees view of pearl river from the lowest parts of the Guangzhou Tower is another option.
Shamian island the historic view of guangzhou
Shamian is an island located in the pearl river in Canton. It's so small that you can walk all around it and not feel tired at all. You can see the charming statues and buildings. The weather in shamian is very great. It's really less smogy due the limited car usage. You can feel peaceful by the low pace of life there. It's not too vast so there is no place for building new constructions there.  Some years ago they changed  churches to factories but then the government decided that they change to their former usage. Shamian has exprienced many wars through the history. You can see lot's of historic buildings in shamian which were used during the wars. Getting to Shamian is very easy. You just need to get to metro and then have a short walk.
Temple of the Six Banyan Tress and Guangxiao Temple
You can see Temples in lots of cities in china but the Temple of the Six Banyan Trees is one of the most exciting ones. It has a peaceful atmosphere. If you are intersted in religous places this buddhist temple is a good choice. The temple is a construction of 537 AD. Its name have been changed several times. It's traditional to burn a joss sticks in the Temple of the Six Banyan Tress. The most famous part of the Temple is Flower Pagoda which is more than 50 meters heigh. The temple has several buldings. In the first building you can see a smiling buddha. It has 3 bronze enormous buddhas. There you can see lots of worshipers who come to pray. Its architecture is spectacular.
Guangxiao Temple is another temple which you can visit. People in guanzhou say "Guangxiao Temple comes earlier than guangzhou". It refers to that the Guangxiao is older than the city. Lots of monks have been to this temple. It is situated in Guangxiao road. After cultural revoloution some of the buldings have been used for secular usage. Mahavira hall is one of the buldings of Guangxiao Temple and has a very delightful architecture. The trees there make an lovely atmosphere. Also there is a vegeterian restaurant near the temple.
Baiyun Mountain on of the most beatiful mountains of china
Till now I just talked about handmade attractions of Canton. Baiyun Mountain or white cloud mountain is a natural place where you can relax and have some fun. It's one of the spots with an amazing natural beauty. It's located about 17 km out of the city that make you drive just about 10 minutes. You can take bus and go there by yourself or get sightseeing buses. Withe Cloud Mountain minnow is a special kind of fish which was descovered there. The best season to se the Baiyun mountain is spring When you can enjoy the fresh weather and blue sky and the delightful sunshine. But the most felicific part is seeing the white clouds. It's not just a mountain with an extraordinary veiw. There are gardens and tombs there that add to the beauty of the place. This mountain and pearl river are the best sights for people who live green places. Also there there is Sculpture Park which you can see kinds of sculptures that were modern for their time. In the Baiyun Mountain you can see lots of kinds of birds. They sing and live there. The birds make your time enjoyable.
Beijing Road the road with small and extreme big stores
Beijing Road is one of the touristic streets of guanzhou. There are lots of stores and malls in this road but if you don't want to buy anything it's good for window shopping too. You can see the traditional life of Canton resident.  You surely will be persuaded to buy some chinese products. They are so cheap. Don't be afraid. It's the real price. In that street there are extra big malls and big stores. But also there are small traditional stores. If you want to discover something about life in china this street can help you a lot. Cars can not open this street but people in huge numbers enter that every minute. There are a lot of fake designers there too. At nights the street is bright by the giant neon lamps. It's a historic place too. By walking in the Beijing Road you can feel the old china and its emperors. Sculpture is produced all over china. You can buy them in reasonable price there. There are all different kind of shops in Beijing Road from bookstores to boutiques. Lots of good restaurants are situated there. Trying the Chinese traditional food is  is strongly suggested.
Sacred Heart Cathedral
In 2007 after two years of renovation work the Sacred heart of Cathedral was reopened. Nowadays it's one of the places which is visited by tourists from all over the world. It's also called "Shishi Catholic Church". It's situated in the center of the city and now is about 130 years old. In china you can't find lots of churches and this church is very unique. For tourists who are attracted to architecture ,specially Roman architecture, it has an amazing perspective. to enter the cathedral, you must obey the rules of clothing. You can not wear short skirts or slippers.
There aren't alot of churches which are built of granit, but the Sacred heart Cathedral is one of them. In the 19th centure five gigantic bronze bells were transfered to  guangzhou to be placed in one ot the towers of the church. It also has a tower with a beautiful clock.