Hangzhou is a beautiful city with a lot to offer but if it's tranquility you're looking for, then the West Lake is indeed the right choice. West Lake is a freshwater lake and is divided into five sections by three causeways.
Around the lake you can find beautiful temples, attractive pagodas, and Chinese gardens. The lake has four small island within itself which three of them are artificial and man-made.
The lake is also listed as a World Cultural Heritage Site by UNESCO which makes you certain you are going to visit a place that is considered valuable by different people from all over the world.
What to do around the West Lake?
The first think that comes to mind is just taking a stroll around the lake to gather your thoughts and relax. If you do this in early spring, you might be able to have the beautiful cherry blossoms to make the walk much more romantic.
The environment around the lake is designed like a part with a lot benches and you can have a resting place with an admiring view.
The boat ride is another option. They will take you around in Chinese style boats in a slow pace so you can take in all the beauty the lake has to offer. A much soothing experience if you have just left a crowded city.
Renting a bicycle is another one of your choices when vising West Lake. By riding a bicycle, you can cover a larger area faster and enjoy the lake in a whole new manner.
West Lake is surrounded by numerous restaurants. After a long walk or enjoying the boat ride, you can have a vast variety of choices based on your appetite just near the lake.
There are some really attractive places to visit around the lake that are explained below.
Islands, Gardens, Pagodas and everything else you need to see
Su Causeway is one of the places which is absolutely lovely specially in spring. Famous poet Su Dongpo constructed the Su Causeway in the 11th century. It has a length of 1.7 miles (2.7 kilometers).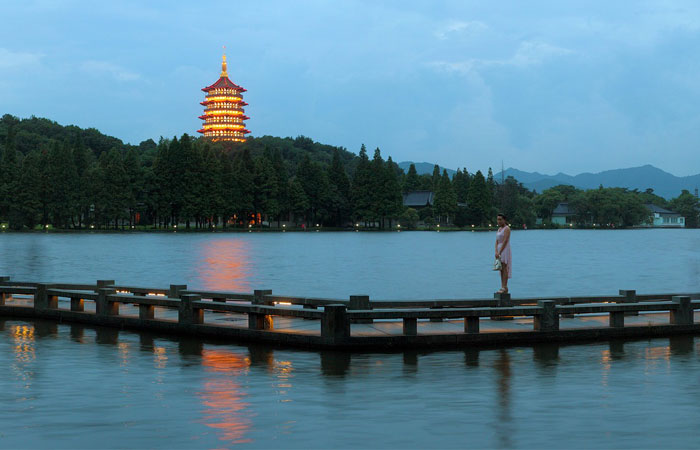 The Su Causeway has six bridges connected to it and there are lots of willow and peach trees alongside it which when blossoming in spring, the view becomes breathtaking.
If you go to the northwest of the lake, you can visit the Quyuan Garden. This is a collection of gardens grown over many islets and it is known for its lovely spring lotus blossoms.
West Lake due to its nature has been a great place to see the full moon for a long time. If you go to the west of the Bai Causeway you can find yourself by the West outer Lake and among Chinese traditional culture with different structures. Indeed, a nice place to appreciate the full moon.
If you move toward the northern shores from the Bai Causeway, you would reach the Gushan Island which is the largest island of the lake. This island is home to Zhejian Provincial Museum and Zhongshan Park. Buildings and gardens on this island were once the 18th century Emperor Qianlong's holiday residence.
Near Xiling Bridge you can see Su Xiaoxiao's tomb. She was a famous courtesan and poet and is said that she has died in grief of waiting for her lover to come back. It's also said that she haunts the area and at nights, you can hear the tinkle of the bells on her dress.
The smallest island is called Xia Oying where the Three Pools Mirroring the Moon is located. They are three stone towers on the south of the island in water and there are some holes on each of them. These towers form a triangle with 68 yards (62 meters) edges and standing 8.2 feet (2.5 meters) tall. At nights with full moon, candles are lit in the towers and their reflection on the accompanying the full moon, creates the illusion that you can see several moons.
The Leigfeng Pagoda is located to the south of the West Lake. It was constructed by the king of the Wuyue Kingdom to celebrate his concubine pregnancy. It has been damaged and renovated several times later. If you stand on the pagoda which is over 230 feet (70 meters) you can truly enjoy the panoramic view of the lake.
Don't forget about the show!
There is a musical fountain on the lake and it can be a feast for your eyes. You can view it for free and each time it lasts around 15 minutes. If you are lucky and the weather is good, you can also catch some folklore traditional performances with singing, music and dancing around the lake to cap off a beautiful day in West Lake.
History of West Lake
West Lake was a lot different back in the 8th century. Then it was only a lagoon next to Qiantang River but the governor of Hangzhou changed it into a lake. During time the lake gradually became larger and more magnificent by planting gardens, building pagodas and constructing islands and causeway from dredged silt.
West Lake: A Romantic Spot, Based on Legends…
There is a love story integrated with the lake, the love story between Bai Suzhen and Xu Xi'an. In this story Bai Suzhen is a white snake spirit and and Xu Xi'an is a mortal. These first met on a boat on the Lake and fell in love with each other. Soon after they got married but something evil was in work for their destiny.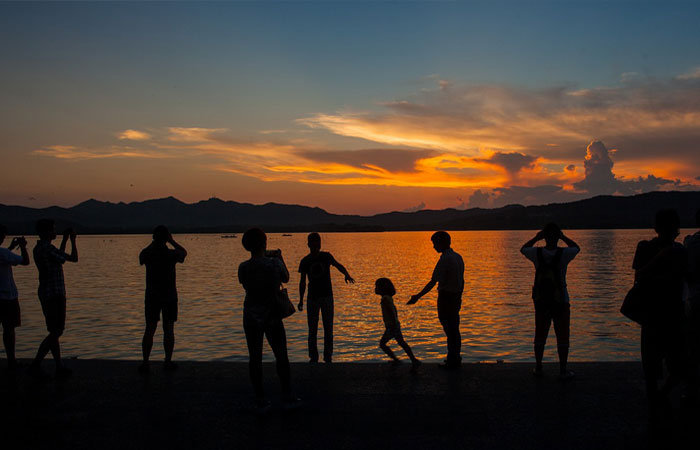 The evil monk Fa Hai imprisoned Xu Xi'an and separated the couple. Bai Suzhen fought back and tried fearlessly to release her husband. But her courage didn't work and was imprisoned under the Leifeng Pagoda next to the lake. In the end they were both rescued by Xiao Qing, Bai Suzhen's sister and the couple lived happily ever after and marked the lake to be forever a romantic place for lovers.
How to get to West Lake?
By metro:
Take metro line 1 to Longxiangqiao. When you reach there, walk toward west to get to the Lakeside Park (Music Fountain) or toward north to Broken Bridge or Bai Causeway.
Or
Take the same metro to Ding'an Road. When you reach there, toward west to get to the to lakeside Nanshan Mountain area or toward south to Wushan Mountain area.
By Bus:
Take bus 4, 31, 51, 52, 87, 314, 315, 334, 822, jy6, y2 or y10 to Su Causeway
Take bus 7, 324, 807, j1, or y2 to Lingyin.
Take bus 7, 27, 51, 52 or 118 to Yuemiao
Take bus 27 or 87 to Shuangfeng or Longjingsi (Longjing Temple).
Take bus 7 or 25 to Hubin.