Xian Great Mosque is rather larger than many temples you can visit in China and also is the largest mosque in the country. It's a sacred place and a mixture of Chinese and Islamic architecture which will bring you a fascinating experience.
The mosque is still being used as a place for praying and worship mostly by Hui people and other Chinese Muslims.
In fact, if you didn't know where you are, you might have thought you were inside another temple rather than an Islamic mosque. When you see Xian Great Mosque, you can actually see that even the minarets are based on Chinese pagodas. The only thing that could intrigue your suspicion, are the Arabic carvings.
Muslims in China
There is an engraved stone tablet inside Xian Great Mosque which states it was built in 742 and during the Tang Dynasty (618-907). The reason for building Xian Great Mosque lies with the commercial exchanges Chinese had with people from Middle East.
So these commercial exchanges led to cultural exchanges and Islam started being introduced into Northwest China. Most of this happened by Arab merchants or other travelers from Persia (modern day Iran) and Afghanistan in mid-7th century.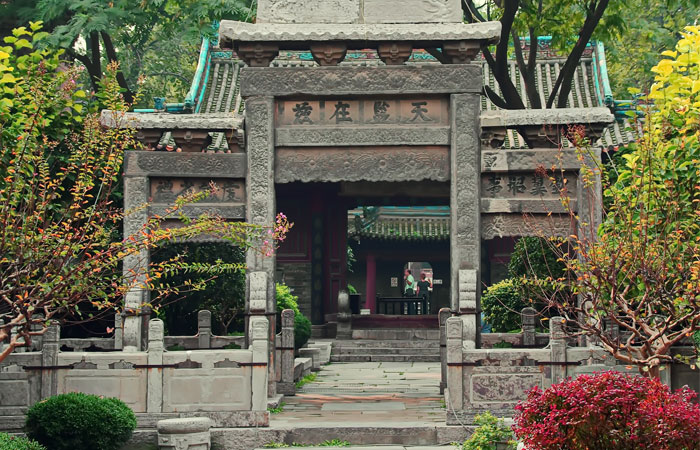 When these people came to China, some of them settled down and married women of Han Nationality. These immigrants' descendants later became the Muslims today in modern day China. The Muslims had a crucial effect in unifications of China specially during the Yuan and Ming Dynasties.
If you are curious about the course of history and its events, you can actually find some known Chinese figures who come from this line of events like beloved national Chinese figure, Zheng He whose ancestor was Ajall Shams al-Din Omar from the city of Bukhara in modern day Uzbekistan.
History of Xian Great Mosque
Xian Great Mosque is rather old and dates back to the 8th century under rule of the Tang Dynasty. Although the mosque was founded back then, the remaining parts today are mostly from Ming and Qing Dynasties.
During the Tang Dynasty was a time period filled with peace, trade, influx and freedom of religion. Xian Great Mosque was built in this time period because people from the Middle Eastern had a very good chance of trading, traveling and relocating to China.
Inside the mosque you can find some hand-written copies of the Holy Quran which date back to Qing Dynasty and also a picture of "Mecca" that portrayed Muslim's holy city Mecca in Saudi Arabia and around 20 inscriptions written in Arabic and Chinese.
Architecture of Xian Great Mosque
Xian Great Mosque is a complex with different sections inside. The area includes four courtyards and occupies around 129,000 square feet (12,000 square meters).
If you have the chance to see this beautiful Chinese treasure from a close distance, you can understand the Arab influence. This influences start from the central minaret which has the same look of a pagoda to the astonishing turquoise-roofed Prayer Hall (unfortunately not open to non-Muslim visitors) at the back of the complex, which dates back to the Ming dynasty.
Another thing which is good to know about the Xian Great Mosque is the direction it faces. Usually building face south in China but Xian Great Mosques like almost every mosque in the world, faces the holy city of Mecca and it this case, to the west.
Xian Great Mosque is also a very beautiful place in spring when the magnolias are blooming in white and pink. The mosque can be considered a true haven of solitude and an oasis of tranquility located in a crowded area of the city.
Xian Great Mosque is a sanctuary for Muslims but as you know already, it features classic Chinese temple features too.
These features include:
Spirit Walls – to keep demons at bay
Stelae on the Backs of Antediluvian Bixi – mythical creatures usually seen in Confucian temples that look like tortoises
Memorial Arches
Glazed-Tile Chinese-Style Roofing
The Gardens
Pagodas
Deep inside the Xian Great Mosque
Xian Great Mosque has four courtyards inside and when you enter the first courtyard, you can see magnificent dragons. Above them is a 17th century ornate wooden arch that is around 29.5 feet (9 meters) tall and is covered with Chinese glazed tiles.
The gardens with all the beauties they held inside, add to the mosque's tranquil environment. The names chosen for the courtyards contribute to the tranquility of the Xian Great Mosque complex. Qing Xiu Dian (Place of Meditation), Xing Xin Ting (Pavilion for Introspection) and Sheng Xin Lou (Tower of the Visiting Heart).
Other than architectural magnificence, Xian Great Mosque also have some rare calligraphic and textual gems too.
When you enter the second courtyard you can find two towering stelae carved with Chinese calligraphy. One of these stelas is done by a renowned Song Dynasty calligrapher named Mi Fu, other stelas on the other hand, is done by another calligrapher named Dong Qichang from the Ming Dynasty.
There is a prayer hall from the southern Song Dynasty Near the third courtyard named Chixiu Hall. Here you can see Islamic stelae in multiple languages including Arabic, Persian and Chinese.
The third courtyard or "Place of Meditation" has the mosque's tallest tower inside. This tower which is known as "Pavilion for Introspection" or "Tower of the Visiting Heart" standing 33 feet (10 meters) tall could also be interpreted as the heart of Xian Great Mosque. This octagonal structure has two functions, the minaret of the mosque and also a pavilion to watch the moon.
When you enter the fourth courtyard you will face a hexagonal pavilion named "Phoenix Pavilion" which actually looks like a phoenix with its wings spread toward the sides. If you visit the halls near this area, you can find they are filled with furniture, sculptures, Arabic calligraphy and etc. all preserved like a museum,
If you continue your path from the Phoenix Pavilion you will reach the large turquoise-roofed Prayer Hall left since the Ming Dynasty, This area is about 14,000 square feet (1,300 square meters) and is filled with hanging lanterns and Chinese plaques which show the Islamic belief.
Inside the mosque will leave you in awe. Here you will see another mixture of Islamic architecture and the Chinese one. You can even see verses of Quran in both Chinese and Arabic which is a scene not to be missed.
The Xian Great Mosque is something one of a kind and is definitely recommended to those who value art, culture and history of different nations.