General information about Guilin
A Chinese Song Dynasty scholar named Fan Chengda has said:
"I often sent pictures of the hills of Guilin which I painted to friends back home, but few believed what they saw."
There is also a famous Chinese saying about Guilin:
"Guilin's scenery is best among all under heaven."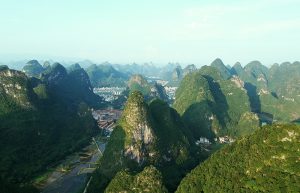 These show that Guilin's natural beauty has been appreciated for at least since a millennia ago. It is a paradise for those seeking beautiful landscapes and is filled with natural beauty sites.
Guilin is the third-largest city in Guangxi, after Nanning and Liuzhou. Here, the majority of residents are Han Chinese, but there are also 12 different ethnic minorities too. As declared before, Guangxi is not a province, but it is instead an autonomous region for the Zhuang ethnic group. There, other Chinese minorities, such as Yao, Hui, Miao, and Dong, could also be seen.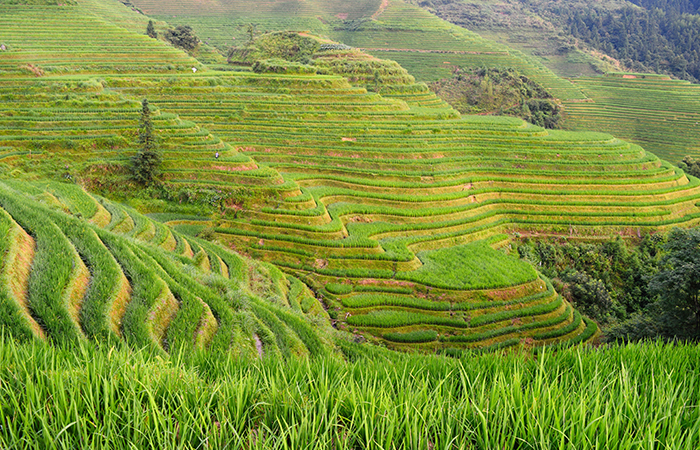 Land
Guilin Geography
Situated in the northern Guangxi, Guilin borders with Hezhou to the southeast, Wuzhou to the south, Laibin to the southwest, and Liuzhou to the west. Also on its neighboring Hunan province, it borders with Yongzhou to the east, Shaoyang to the north, and Huaihua to the northwest.
The topography of the Guilin area is filled by mountains and formations of limestone and has the Li River flowing through the city. Its total land area is 27,809 square kilometers (10,737 square miles).
The area surrounding Guilin has many hills, mountain, and caves which many of them are top tourist attractions.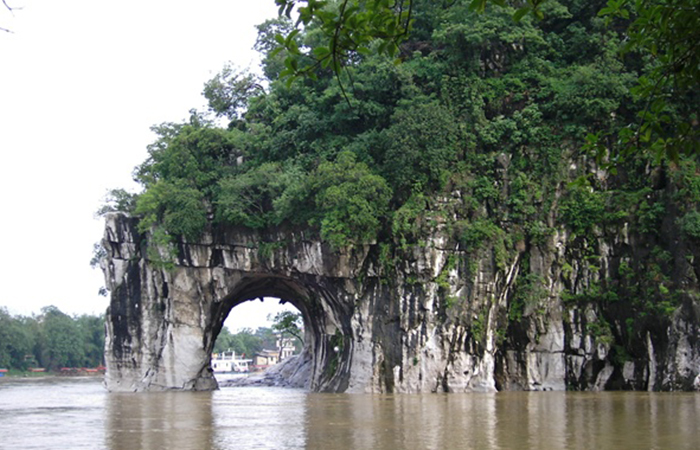 Hills and Mountains:
Elephant Trunk Hill, Kitten Mountain (the highest mountain of Guangxi), Wave-Subduing Hill, Yao Hill,
Diecai Hill, and Lipu Mountains.
Caves:
Reed Flute Cave and Seven-Star Cave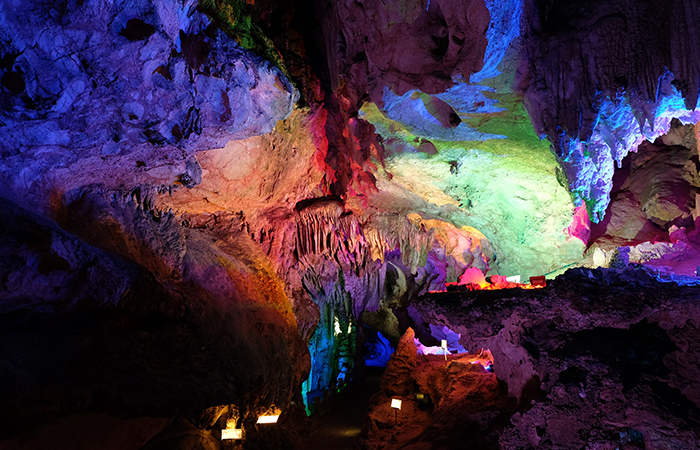 Distribution
Guilin has administrative jurisdiction on seventeen county-level divisions which include six districts, eight counties, two autonomous counties, and one county-level city.
Guilin Climate
Guilin's climate is a warm one with a monsoon-influenced humid subtropical climate. It has short, mild winters, and on the other side, the summers are long, hot, and humid.
Guilin's spring is mostly overcast and commonly rainy. The summer has the same wet weather of spring; however, it gets sunnier and is also the brightest time of year. Guilin's autumn is dry and sunny and while the winter starts mostly dry but it gets more wet and cloudy gradually.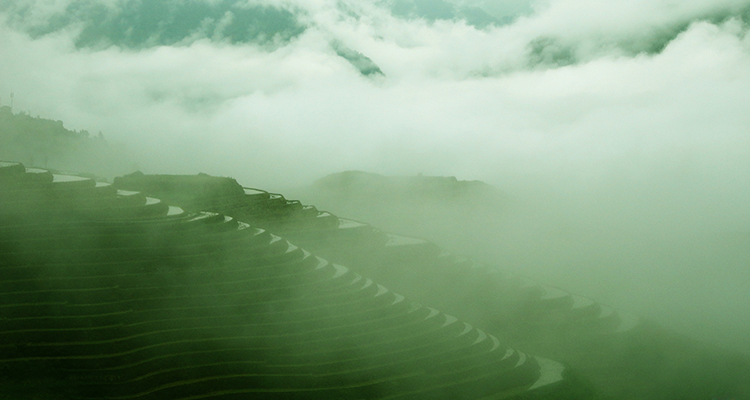 The monthly 24-hour average temperature starts from 8.1 °C (46.6 °F) in January up to 28.2 °C (82.8 °F) in July while the annual mean is 19.12 °C (66.4 °F). Guilin's yearly rainfall is above 1,888 mm (74 in). Half of this rainfall is around East Asian rainy season, which is linked to the risk of floods, and it happens from April to June.
Guilin's monthly possible sunshine percent ranges from 14% in March up to 53% in September, and the city gets 1,487 hours of bright sunshine yearly.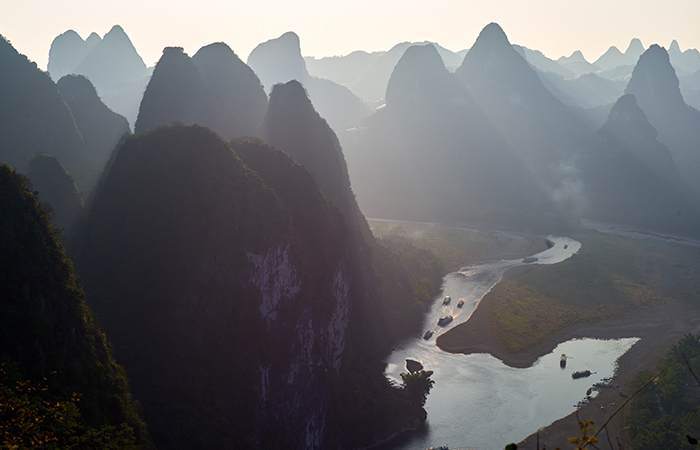 History of Guilin
Ancient History
The oldest signs of humanity in Guilin are some relics found in the two caves of the city (Baojiyan and Zengpiyan). These items are approximately from 10,000 years ago. The Baiyue people resided in Guilin before the Qin Dynasty took it over.
The first reach of the Han empires to Guangxi dates back to around 2,200 years ago in the 2nd century BC. It has been said that the Ling Canal which allowed small boats to visit the Yangtze to the south, by flowing Xi River via the Xiang River, was dug then.
Guangxi region has always been different from other parts of mainland China. The reason for this lies in the fact that it was separated by the Nan Mountains from central areas of China and the Yangtze River basin .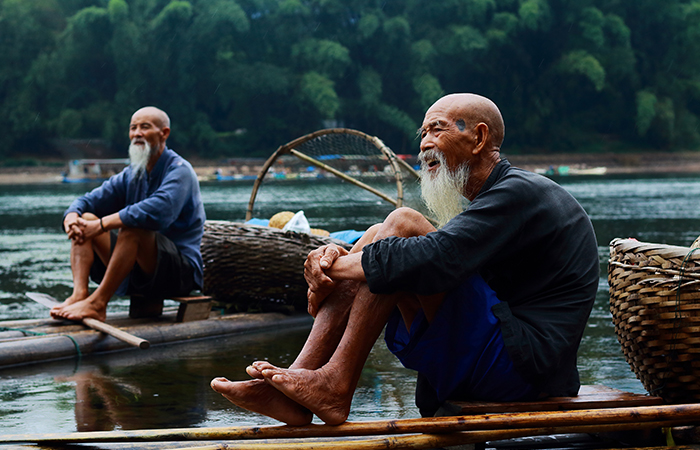 After some time, the boat trades became more significant around the canal, and its river routes and some trading posts were built. Guiling was one of these trading posts, and it was founded around the 1st century BC.
Qin Dynasty (221–206 BC) had several campaigns against the state of Nanyue. During this time, the first administration was organized near Guilin. The modern city was situated inside the Guilin Commandery (a historical administrative division of China) that is the origin of the current name "Guilin."
When Emperor Wu of the Han Dynasty ruled China in 111 BC, Shi'an County was founded, which can be considered as the start of Guilin. In 507 AD, they renamed the town to Guizhou.
Under the administration of Gui Prefecture, at the modern site of today's Guilin, Lingui County was founded in 634. Two centuries later, in 868 Pang Xun from Gui Prefecture rebelled against the Tang Dynasty rulers.
Guilin bloomed during the Tang Dynasty and Song Dynasty, but it still functioned as a county. Guilin acted as a nexus between the central government and the southwest border where regular troops stayed to guard the border. To better supply food from the fertile Yangtze Plain, canals were constructed so the supplies could be transported easier to the southwestern parts of the country.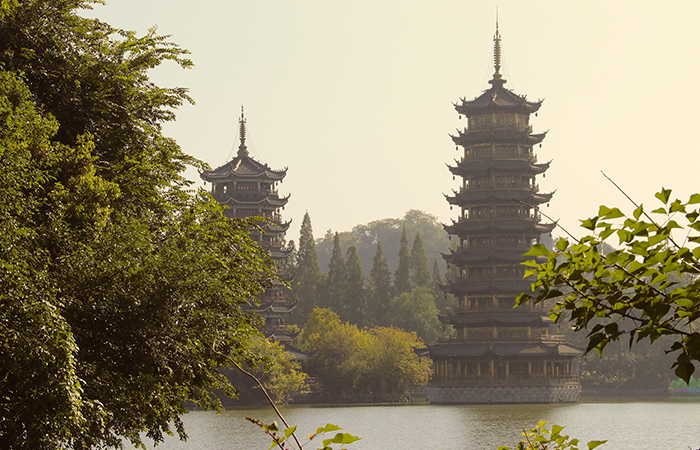 Guangnan West Circuit was founded in 997 and Guizhou was selected as its capital. Guangnan West Circuit is the Guangxi. Guizhou had its name changed to Jingjiang Prefecture in 1133, and it was changed to Guilin Prefecture in 1367.
Modern History of Guilin
Guilin continued to flourish, and in 1921, when Sun Yat-sen led the Northern Expeditionary Army, Guilin was chosen to become one of the headquarters for this mission. All of these matters led to the establishment of the Guilin City in 1940.
Guilin was a large city during WWII and had around two million population, but it was demolished. During the post-war time, multiple factories for paper production, chemical, and agriculture equipment were built. This let Guilin's population recover gradually. However, many of these industries had to go out of the city due to market forces later. Guangxi capital was change from Guilin to Nanning in 1950.
Guilin's development as a tourist destination started after 1973. Then, Guilin was chosen among 23 other cities that were allowed for foreign travelers to visit. The main attraction of Guilin for visitors was mostly its natural beauties.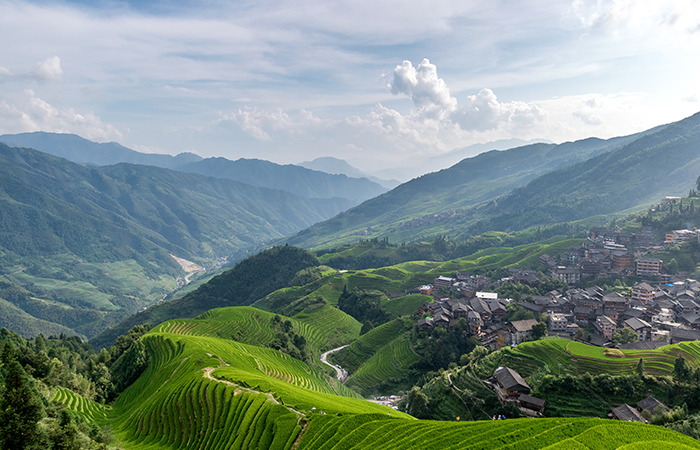 The blossoming of Guilin tourism started after 1978, which was the time for reforms and a more open economy. Guilin, Beijing, Hangzhou, and Suzhou were selected as cities with high priority protection for their historical and cultural heritage, as well as natural scenery by the State Council.
In 1982, here was a significant historical and cultural city and received policy support from the Chinese government. A competition for "Most Beautiful Chinese Scenery" occurred in China, which Guilin reached the second place, and the first one was the Great Wall.
This ranking, place Guilin on the road of fame as a must-see place in China and led to increasing number of visits to sites such as Reed Flute Cave, Elephant Trunk Hill, Li River, and many more.
In the early 1990s, the city opened some of its historical spots open to the public. Among them, the Residence of Prince Jingjiang in the city center (built in the late 14th century) is a worthy mention. They let the travelers visit not only the fantastic natural sceneries but also have the historical sites available to them.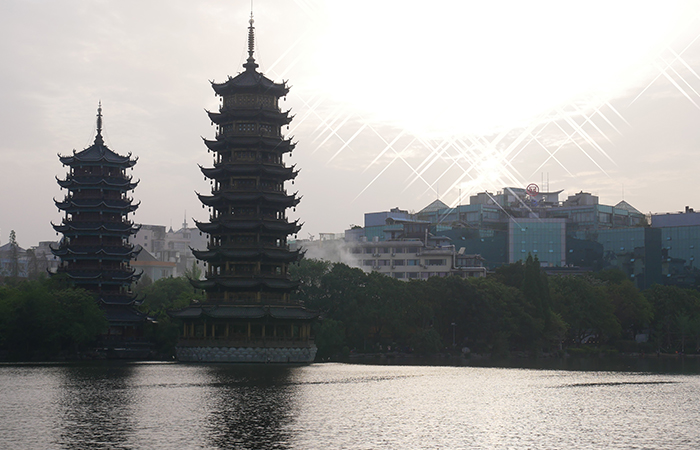 Guilin had 977 foreign visitors in 1973, and when compared with the two million visitors in 2007, the tourism development would be more visible.
Guilin Cuisine
The cuisine of Guilin is a blend of Cantonese and Zhuang cuisines. This cuisine is most famous for the snacks and its use of spices, notably chili. There is also a known chili sauce in here which is widely used by locals. This sauce recipe includes fresh chili, garlic, and fermented soybeans and it is considered as one of Guilin's Three Treasures. The pickled tofu and Sanhua Jiu, which is a kind of rice baijiu (an alcoholic drink) are the other two.
Since the old Qin Dynasty, Guilin rice noodles have been a part of its people breakfast and are famous for their flavor. There is a legend that is linked to these rice noodles. It is said that when the soldiers reached Guilin, they suffered from diarrhea. The troops had problems with the local food, and so a cook created these rice noodles for them. Horse meat is a part of these noodles but can be ordered without it as well.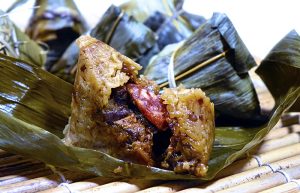 Another trendy food in Guilin is Zongzi. It is a dumpling, wrapped in a banana leaf or bamboo and made from the paste of mung bean and glutinous rice.
Guilin Transportation
Guilin is a tourist destination and has a highly developed transportation network and facilities.
Guilin Liangjiang International Airport
The Liangjiang International Airport had 5,875,327 passengers in 2014, which made it the 33rd busiest airport in China. This airport also has around four million transit passengers each year, which travel to one of its 48 domestic and international destinations.
Rail
Guilin has one of the most high-speed rail stations in all of China. This high-speed rail setting has made this area hugely accessible from other further cities.  Now, this city is only 2 to 3 hours from Guangzhou, 9 hours from Shanghai, and 13 hours from Beijing.
Public Transportation
Guilin's public transportation includes taxis and bus routes. Here is also one of the few cities that operates double-decker buses frequently on its major routes. On Guilin main street, double-decker buses are ready to be boarded most of the time. There are also sightseeing boats available which sail on the canals and lakes of the city.
Economy
Although Guilin is mostly known for tourism, it also has some local industries. Its GDP per capita was 2,858 US dollars in 2009, which ranked 125 between 659 Chinese cities.
In 1949, the only signs of industrialization of Guilin were a cement plant, a thermal power plant, and some small textile mills. This changed later, and since the 1950s, Guilin has engineering and agricultural equipment, medicine, rubber, electronics, textile and cotton yarn factories, and buses.
The most critical industry in Guilin is food processing, which includes the processing of local agricultural products. The modern industries of Guilin are more concentrated on high technology and industries shaped by tourism.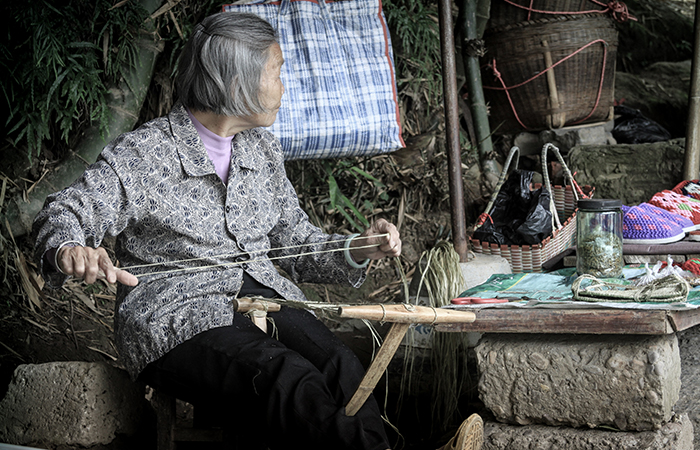 The agricultural products include summer orange, Fructus Momordicae, ginkgo, moon persimmon, Shatian Pomelo, Lipu Taro, Sanhua Alcohol, Guilin Rice Noodle, water chestnut, grain, fish, pepper sauce, fermented bean curd, and dried bean milk cream in tight rolls.
The industries focus on herbal medicine, tea, cinnamon, wine, perfume, silk, fertilizer, machinery, tires, pharmaceutical goods, and condoms.